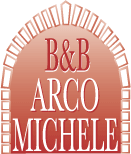 B&B Arco Michele
Via Arco Michele, 31
70017 Putignano (BA)
Tel: +39 080 4059578
Fax: +39 080 4059578
Cell: +39 333 2460666
contatti@arcomichele.it
The B&B Arco Michele is located in one of the most characteristic area of the old town of Putignano. The house is located in a closed court, whose input is bounded from the old Arc Michele.

The fascination generated by the ancient stone buildings typical of the medieval centers of the south-east of Bari is coupled to the centrality of the B & B Arco Michele compared to the town, so you can reach walking any point of Putignano.

At guests' disposal there are three recently renovated rooms (a double, a triple and a quadruple room) all with independent access and private bathroom, tv in room and with the possibility to connect to Internet via cable or wireless.

The double room is also equipped with air conditioning.